Or try one of the following: 詹姆斯.com, adult swim, Afterdawn, Ajaxian, Andy Budd, Ask a Ninja, AtomEnabled.org, BBC News, BBC Arabic, BBC China, BBC Russia, Brent Simmons, Channel Frederator, CNN, Digg, Diggnation, Flickr, Google News, Google Video, Harvard Law, Hebrew Language, InfoWorld, iTunes, Japanese Language, Korean Language, mir.aculo.us, Movie Trailers, Newspond, Nick Bradbury, OK/Cancel, OS News, Phil Ringnalda, Photoshop Videocast, reddit, Romanian Language, Russian Language, Ryan Parman, Traditional Chinese Language, Technorati, Tim Bray, TUAW, TVgasm, UNEASYsilence, Web 2.0 Show, Windows Vista Blog, XKCD, Yahoo! News, You Tube, Zeldman
A weblog on emerging technology and internet news, reviews, tips for a broad range of computing technologies.
The design and print of professional ID cards used to be exclusive to large corporations, government entities and professional printers. However, times changes and there days, in-house card printing is becoming more and more common. Plastic Card Printers are an effective — and cost-efficient— way to print PVC cards for your company. Card printers are used to produce everything from promotional cards and tags to student cards and staff ID cards.
There is a myriad of uses for card printers, just some of which are outlined below:
Staff ID Cards
Gift Cards
Loyalty Cards
Hotel Cards
Student Cards
Membership Cards
Access Control Cards
Smart Cards


With the huge variety of brands, features and price points in the card printer market, deciding which machine is right for your needs can be tricky — to say the least. This article will help you to make an informed decision so that you can get the most out of your money.
Choosing a Card Printer – Top 3 Factors At a Glance
Before choosing your plastic card printer, it's best practice to assess your current and future printing needs. Will your print needs stay as they are now or will they possibly evolve as time passes? And, this leads to point No. 1.
1. Estimate Your Card Printing Volume
To ensure you choose the correct printer, consider the volume of cards you'll print per week/month/year on average.
< 1,000 annually = Low volume
1,000 to 5,000 annually = Standard volume
> 5,000 annually = High volume printing
For low-volume issuance, most entry level card printers will be suitable. These are usually the cheapest option and provide good quality with intuitive use.
For standard volume, you could potentially get away with an entry level model but these small print engines are not designed for such strenuous printing and will likely wear out prematurely. So, it may be in your best interest to get a mid-level printer.
For high-volume printing, you would need to purchase a premium model specifically designed for high-volume printing.
2. Determine Your Card Appearance Needs
Determining your card appearance before purchase will make things much easier when shopping for a printer. This will usually affect the machine you choose in two ways: image quality and single or dual-sided printing.
Single-Sided Printing
This method is somewhat misleading. You can print on both sides of the card if desired, but you must remove the card manually, flip it and then print on the other side, which can be very tedious, especially if printing in batches.
Some single-sided machines can be upgraded after purchase but this can be more expensive than buying a dual-sided printer first time round.
Dual-Sided Printing
Dual-sided is self-explanatory, it has the capability to print on both sides of the card. This is usually only recommended for printing large batches as it is a costly upgrade.
Used for collating front/back ID data on cards
Direct-to-card printing
Direct-to-card (DTC) is the most common and cost-effective method of printing cards. This process uses a thermal print head to heat and ink ribbon and transfer the colour to the card.
Uses standard ribbon supplies
DTC leaves a white border around the card edge
Entry-level printers generally have loer print quality than professional-class printers
Retransfer Printing
Retransfer printers are typically used when image quality is the primary concern. These printers provide much better colour depth and variance.
Requires extra retransfer ribbon
Higher Durability
Can print on uneven surfaces such as contactless cards
Eliminates borders
More costly and slower to print
____________________________________
3. Determine the Level of Security Needed
Most card printers have at least a fundamental level of security included with a barcode being the most basic.
Barcodes
Barcodes can be a simple solution commonly used in loyalty cards, membership, gift and student ID Cards. Barcodes are not as commonplace as they once were as they are somewhat lacking in terms of security.
Magnetic Stripe
Nearly all card printers have the option to add magnetic encoding, either at the time of purchase or as an upgrade post-purchase. Magnetic stripe cards are used for access control, loyalty, gift cards and hotel key cards.
Contactless Cards
For higher security needs, contactless smart card encoding is available on some card printers, which allows for more detailed information to be stored on the card.
These are the main factors to take into account when shopping for a printer. With these in mind, you will be in a good position to find the best machine that will serve your needs well.
The post Choosing a Plastic Card Printer appeared first on Techolac - Computer Technology News.
Emma Heming may be over two decades younger than husband Bruce Willis, but that doesn't mean the two aren't a great match, as Willis previously gushed that he fell madly in love with Heming on their first date. According to Access Online, Willis recalled that, "We went on one date, on the Friday before Emma was getting ready to move back to New York, and then we fell mad crazy in love. When you think about where are you going to find that big love of your life, you seldom think it's someone you already know. You think it's someone you're yet to meet."
On March 21, 2009, Heming and Willis got married, starting a life and family together. Get to know more about the couple in our 5 Fast Facts below.
1. Heming Is the Step-Mother of Willis' Three Oldest Daughters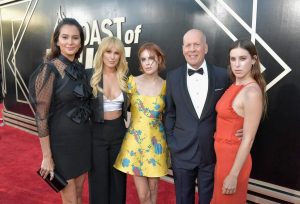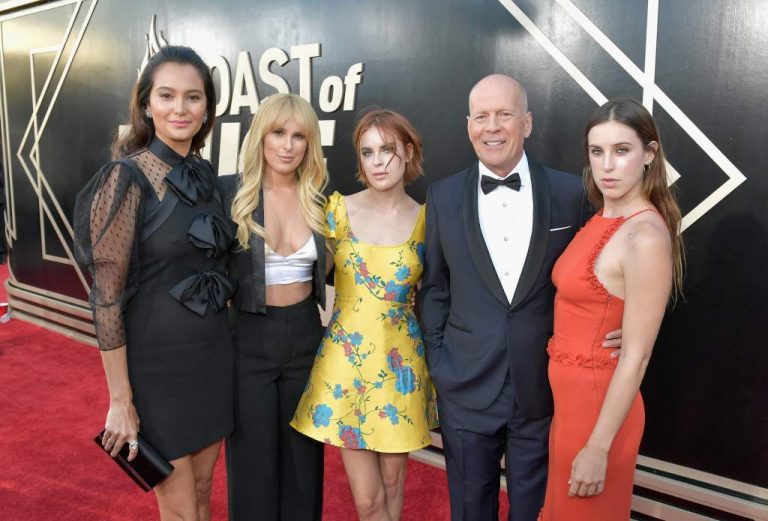 When Heming became a part of Willis' life, she became part of his three daughters' lives. So, when she married Willis, she became a step-mother to Rumer, Scout and Tallulah Willis. With ex-wife Demi Moore, Willis had three girls and Willis went on to say that, with Heming, they have all become like "a tribe," as he explained to W Magazine.
Heming also spoke with W Magazine and revealed that it didn't take long for her to meet Willis' kids. She admitted that, "I met them very early on, and I was definitely nervous because I'd never dated a man who had children and I wanted to be really sensitive to that. But I've been really blessed because from day one it's been comfortable and fun."
While Heming had never dated a man who had kids, she also had never really just dated. According to Access Online, Heming was used to being in relationships. She joked that, "I had never really dated. I've always been a relationship kind of person. But in that phase of my life I was like, you know what, maybe I'll just date, see what it's like. And I lasted one date."
2. The Couple Has Two Children Together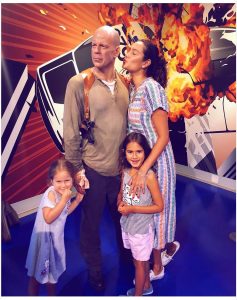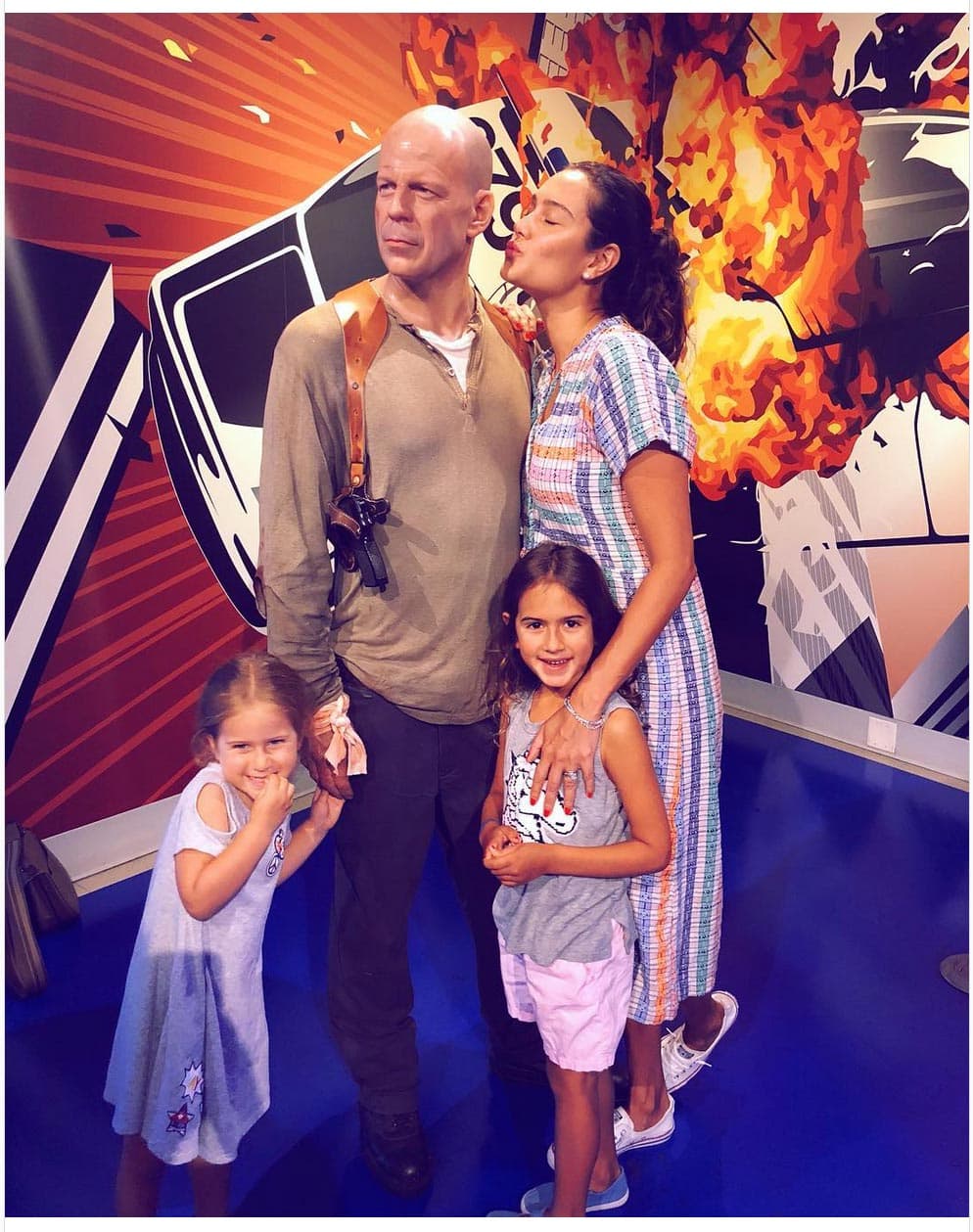 Willis and Heming have two daughters together – Mabel Ray and Evelyn Penn. Mabel was born in April 2012 Evelyn was born in May 2014. Prior to Evelyn being born, the couple decided they didn't want to know the sex of the baby. In an interview, Willis revealed to People that, "[We] didn't know what we were gonna have until the baby came out. In general, I think women should be in charge of everything. Women are just much smarter than men."
When it comes to raising their little ones, Heming told AOL Entertainment that Willis is a great father. She gushed that, "He's totally a hands-on guy! He's a fun dad."
Heming has also said that her little girls have a great bond with their half-sisters. She revealed to AOL, "The younger ones love having older sisters. It's a really a sweet relationship. They FaceTimed Mae the other day for her birthday. We don't get together as much as we'd all like, just because they're on the West Coast and they're on the East Coast, so sometimes our schedules don't match up. But for the most part, we do get to see them often." She then added some compliments about her step-kids, saying, "I feel like they have such confidence. They're very artistic, they're very talented. They're just generally lovely girls, very loving and affectionate, and I love that."
3. Emma Heming Worked as a Successful Model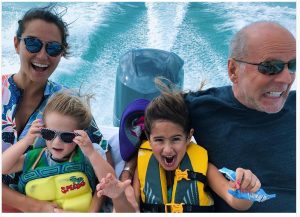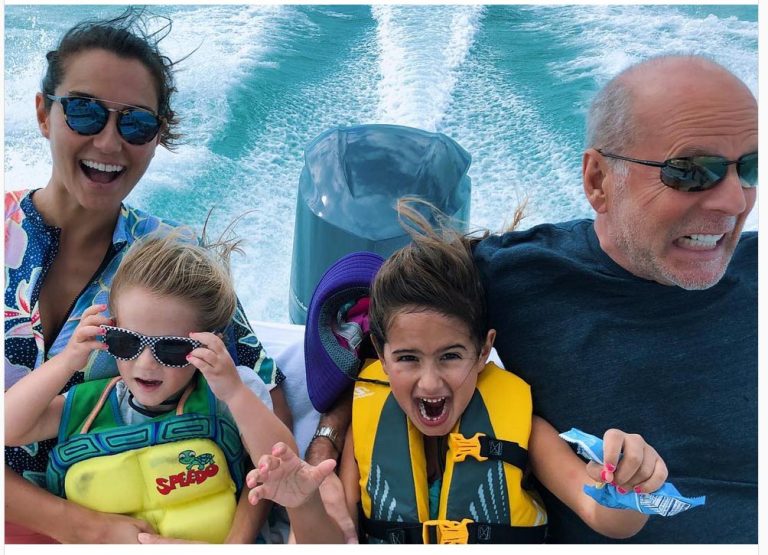 In her career, Heming has worked successfully in modeling, which also opened doors for her in entertainment. At the young age of 16 years old, Heming was discovered on the Big Breakfast "find me a supermodel competition", which she ended up winning. She went on to appear in ads for designers such as Escada, Gap and Redken. She also appeared on the covers of magazines including, but not limited to, French Elle, Glamour, Shape, Town and Country, and W Magazine.
Heming was also a runway model. Some of the designers she has walked for over the years were Herve Leger, John Galliano, Christian Dior, Chanel, Valentino, and Ralph Lauren. She also walked in a Victoria's Secret Fashion Show.
Heming talked about her experiences as a model on her blog, writing, "In the early 90s, my mom entered me into a modeling competition in London called "The British Elle Supermodel", which I won. For the next 15 years I had the privilege of walking the runways in New York, Paris, and Milan … I was also the face of campaigns for Dior cosmetics and commercials for Clairol and Redken. I had the good fortune to work with some of the best and most gifted photographers in the business such as Patrick Demarchelier, Annie Lebowitz, Steven Klein, and Tyen, to name a few."
4. Willis' Ex Demi Moore Attended Their Wedding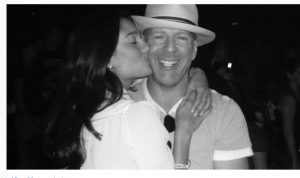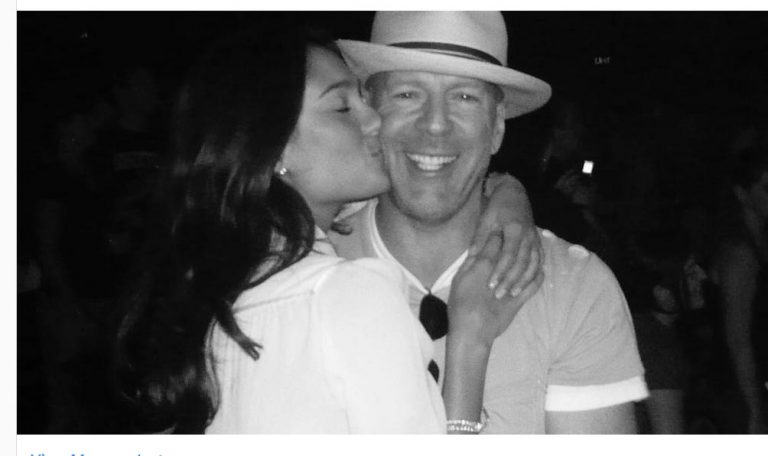 According to Heming's blog, she met husband Willis in 2007 at the gym or their mutual fitness trainer. When they married in 2009, she revealed that they actually tied the knot at a home they have in Turks and Caicos. Their ceremony actually ended up not being legal, so they made it official in a civil ceremony later that week, back in California. The civil ceremony took place at a friend's home, according to E! News.
Willis' ex-wife, Demi Moore, along with her husband at the time, actor Ashton Kutcher, attended the nuptials. Today, Kutcher is married to actress Mila Kunis.
When talking about her relationship with husband Willis to Closer Weekly, Heming said that, "We have a great foundation. He makes me laugh. You've got to keep laughing because if you stop, you're going to have some issues." Willis also chimed in, saying, "It's the most singular relationship I've ever had in my life."
5. Heming Has Appeared In a Couple of Her Husband's Films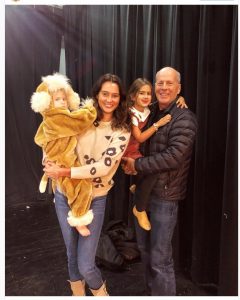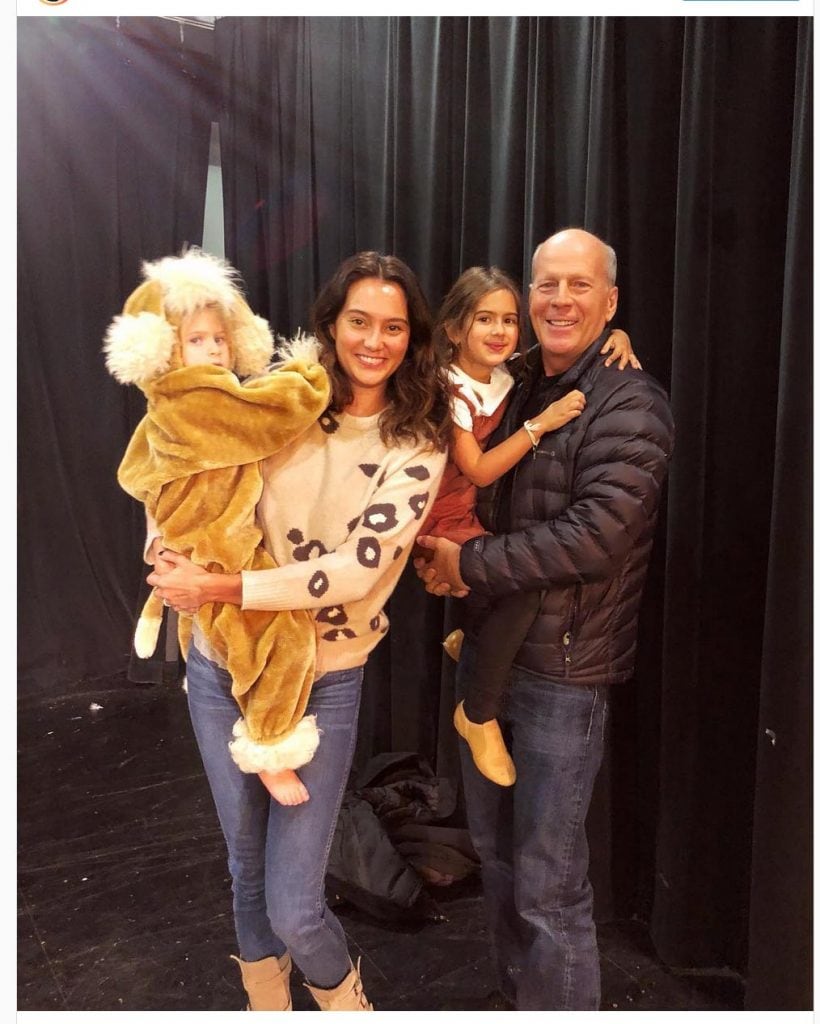 Prior to meeting Willis, Heming appeared in a couple films and she also ended up being in a couple of his films once they met. According to her IMDb page, she appeared in the 2007 movie Perfect Stranger, in the role of "Donna." The thriller starred Halle Berry, Bruce Willis, and Giovanni Ribisi.
Heming also appeared in the 2013 movie Red 2, which starred Willis. It was the sequel to Red, which also starred Willis. Both films were about retired C.I.A. Agent Frank Moses and his unexpected team of skilled operatives. Also appearing in Red 2 were Helen Mirren, John Malkovich, Mary-Louise Parker, Anthony Hopkins and Catherine Zeta-Jones. According to AOL Entertainment, Heming also works with charities. She is an ambassador for Room to Grow, which is a nonprofit benefiting babies born into poverty.
When Heming married Willis, she said that she started to change up her career. In her blog, she revealed that, "I started to transition my modeling career into other business opportunities, which started with the creation of a shoe accessory, a home fragrance line and I also partnered with my husband to create three fragrances–two for men and one for women. His first fragrance, Bruce Willis, was nominated for a Duftstar award in Germany."
The post Emma Heming, Bruce Willis' Wife: 5 Fast Facts You Need to Know appeared first on Techolac - Computer Technology News.
Provides Update on Refinancing
DALLAS, June 17, 2019 /PRNewswire/ — MoneyGram International, Inc. (MGI), one of the world's largest money transfer companies, announced today that it has entered into a strategic agreement with Ripple, a provider of leading enterprise blockchain solutions for global payments, that will enable MoneyGram to utilize Ripple's xRapid product, leveraging XRP in foreign exchange settlement as part of MoneyGram's cross-border payment process. The partnership supports the companies' shared goal of improving the settlement of cross-border payments by increasing efficiency and reducing cost through RippleNet.

Through this partnership, which will have an initial term of two years, Ripple will become MoneyGram's key partner for cross-border settlement using digital assets. As part of this partnership, Ripple has made an initial investment of $30 million in MoneyGram equity, made up of common stock and a warrant to purchase common stock. Ripple purchased the newly-issued common stock (including the shares underlying the warrant) from MoneyGram at $4.10 per share, which represents a significant premium to MoneyGram's current market price. In addition, at MoneyGram's election, Ripple may fund additional purchases of common stock or warrants up to $20 million at a minimum price of $4.10 per share.
"I'm extremely excited about Ripple's investment in MoneyGram and the related strategic partnership," said Alex Holmes, MoneyGram Chairman and CEO. "As the payments industry evolves, we are focused on continuing to improve our platform and utilizing the best technology as part of our overall settlement process," said Mr. Holmes. "Through our partnership with Ripple, we will also have the opportunity to further enhance our operations and streamline our global liquidity management. Since our initial partnership announced in January 2018, we have gotten to know Ripple and are looking forward to further leveraging the strengths of both of our businesses."
Today, MoneyGram relies on traditional foreign exchange markets to meet its settlement obligations, which require advance purchases of most currencies. Through this strategic partnership, MoneyGram will be able to settle key currencies and match the timing of funding with its settlement requirements, reducing operating costs, working capital needs and improving earnings and free cash flow.
"This is a huge milestone in helping to transform cross-border payments. MoneyGram is one of the largest money transfer companies in the world and the partnership will continue to further the reach of Ripple's network. I look forward to a long-term, very strategic partnership between our companies," said Brad Garlinghouse, CEO of Ripple.
"We are very pleased with the terms of the Ripple investment which supports the Company with permanent capital and additional liquidity," said Larry Angelilli, Chief Financial Officer of MoneyGram. "This partnership also provides MoneyGram with the opportunity to improve operating efficiencies and increase earnings and free cash flow."
Separately, MoneyGram is providing the update that it continues to make progress toward closing the refinancing of its existing first lien term and revolving facilities and expects to announce the closing of that transaction next week.
About MoneyGram
MoneyGram is a global leader in omnichannel money transfer and payment services that enables friends and family to safely, affordably, and conveniently send money for life's daily needs in over 200 countries and territories.
The innovative MoneyGram platform leverages its leading digital and physical network, global financial settlement engine, cloud-based infrastructure with integrated APIs, and its unparalleled compliance program that leads the industry in protecting consumers.
For more information, please visit MoneyGram.com
Forward-Looking Statements
This communication contains forward-looking statements which are protected as forward-looking statements under the Private Securities Litigation Reform Act of 1995 that are not limited to historical facts, but reflect the Company's current beliefs, expectations or intentions regarding future events. Words such as "may," "will," "could," "should," "expect," "plan," "project," "intend," "anticipate," "believe," "estimate," "predict," "potential," "pursuant," "target," "continue," and similar expressions are intended to identify such forward-looking statements. The statements in this communication that are not historical statements are forward-looking statements within the meaning of the federal securities laws. Specific forward-looking statements include, among others, statements regarding the company's projected results of operations, specific factors expected to impact the company's results of operations, and the expected restructuring and reorganization program results. Forward-looking statements are subject to numerous risks and uncertainties, many of which are beyond the Company's control, which could cause actual results to differ materially from the results expressed or implied by the statements. These risks and uncertainties include, but are not limited to: our ability to consummate future common stock and warrant Issuances under the agreement with Ripple, our ability to close the Company's contemplated second lien term facility or complete the refinancing of its first lien term loan and revolving credit facilities; our ability to compete effectively; our ability to maintain key agent or biller relationships, or a reduction in business or transaction volume from these relationships, including our largest agent, Walmart, whether through the introduction by Walmart of additional competing "white label" branded money transfer products or otherwise; our ability to manage fraud risks from consumers or agents; the ability of us and our agents to comply with U.S. and international laws and regulations; litigation or investigations involving us or our agents; uncertainties relating to compliance with the agreements entered into with the U.S. federal government and the effect of the Agreements on our reputation and business; regulations addressing consumer privacy, data use and security; our ability to successfully develop and timely introduce new and enhanced products and services and our investments in new products, services or infrastructure changes; our ability to manage risks associated with our international sales and operations; our offering of money transfer services through agents in regions that are politically volatile; changes in tax laws or an unfavorable outcome with respect to the audit of our tax returns or tax positions, or a failure by us to establish adequate reserves for tax events; our substantial debt service obligations, significant debt covenant requirements and credit ratings; major bank failure or sustained financial market illiquidity, or illiquidity at our clearing, cash management and custodial financial institutions; the ability of us and our agents to maintain adequate banking relationships; a security or privacy breach in systems, networks or databases on which we rely; disruptions to our computer network systems and data centers; weakness in economic conditions, in both the U.S. and global markets; a significant change, material slow down or complete disruption of international migration patterns; the financial health of certain European countries or the secession of a country from the European Union; our ability to manage credit risks from our agents and official check financial institution customers; our ability to adequately protect our brand and intellectual property rights and to avoid infringing on the rights of others; our ability to attract and retain key employees; our ability to manage risks related to the operation of retail locations and the acquisition or start-up of businesses; any restructuring actions and cost reduction initiatives that we undertake may not deliver the expected results and these actions may adversely affect our business; our ability to maintain effective internal controls; our capital structure and the special voting rights provided to designees of Thomas H. Lee Partners, L.P. on our Board of Directors; and uncertainties described in the "Risk Factors" and "Management's Discussion and Analysis of Financial Condition and Results of Operations" sections of the Company's public reports filed with the Securities and Exchange Commission (the "SEC"), including the Company's annual report on Form 10-K for the year ended December 31, 2018 and the Company's quarterly report on Form 10-Q for the quarterly period ended March 31, 2019.
Additional information concerning factors that could cause actual results to differ materially from those in the forward-looking statements is contained from time to time in the Company's SEC filings. The Company's SEC filings may be obtained by contacting the Company, through the Company's web site at ir.moneygram.com or through the SEC's Electronic Data Gathering and Analysis Retrieval System (EDGAR) at http://www.sec.gov. The Company undertakes no obligation to publicly update or revise any forward-looking statement.
Contact:
Investor Relations:
214-979-1400
ir@moneygram.com
Media:
Noelle Whittington
media@moneygram.com
214-979-1402
The post Ripple to Invest Up to $50 Million in MoneyGram appeared first on Techolac - Computer Technology News.
For the sake of convenience, a many people like us save documents, folders, and shortcuts to the desktop. After a long time, it annoying and mess sup your windows 10 desktop with icons even you can not understand the desktop picture. Sure, you can take the time to reorganize all of the items icons and de-clutter your windows 10 desktop. Or, you can hide everything with just a couple of clicks.
Hide or Display All Desktop Items in Windows 10
The first way to quickly hide everything is a built-in feature of Windows 10. Just right-click an empty area of the desktop and select View and then uncheck Show desktop icons from the context menu.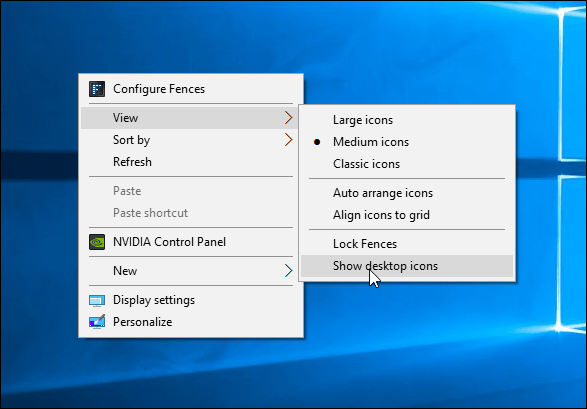 If u want to show again then right-click an empty area View and check again Show desktop icons.
That's it!
How to resize To Resize Desktop icons in Windows 10
Right-click (or press and hold) the desktop, point to View, and then select Large icons, Medium icons, or Small icons. You can also use the scroll wheel on your mouse to resize desktop icons. On the desktop, press and hold Ctrl while you scroll the wheel to make icons larger or smaller.
How to Show Desktop Icons in Windows 10
Your desktop icons may be hidden. To view them, right-click the desktop, select View, and then select Show desktop icons. To add icons to your desktop such as This PC, Recycle Bin and more:
Select the

Start

button, and then select

Settings

>

Personalization

>

Themes

.

Under Themes > Related Settings, select

Desktop icon settings

.

Choose the icons you would like to have on your desktop, then select

Apply

and

OK

.

Note:

If you are in tablet mode, you may not be able to see your desktop icons properly. You can find the program by searching for the program name in File Explorer. To

turn off

tablet mode, select

action center

on the taskbar (next to date and time), and then select

Tablet mode

to turn it on or off.
The post How to Hide Desktop Icons on Windows 10 appeared first on Techolac - Computer Technology News.
One of the many neat features of the gaming System is the ability to share games among people that you know. If a sibling wants to try Until they purchase or wants to play something you bought while you are Playing something different, they can. The system is Named Steam Library Sharing.
Steam Family Library Sharing was released a year just about past and is meant to permit you to share your games with others. Normally, you can't share the games you purchase however with this feature Steam allows members of a similar family access to every other's games. once some aortic aneurysm games will price upwards of $60, this is often a awfully helpful feature indeed!
While the feature is named Steam Family Library Sharing or steam game sharing, you'll share games between friends too. Apparently you'll have up to 10 totally different Steam accounts inside Steam Family Library Sharing and might be utilized by any of them. the sole catch is that just one different person at a time will use the feature. meaning no LAN games with 10 friends using the same copy of a game unfortunately.
How to Share Games using Steam Library Sharing on Windows 10
The steps in setting up your Steam Family Library Sharing feature are quite easy. Just follow our instructions below:
First Step: Enabling the Steam Guard Security Feature
Before you can enable the Family Steam Library Sharing (steam game sharing) feature in your Steam account, you have to enable the Steam Guard security first. With that said, follow the instructions below:
Open your Steam account and submit your login details.
Go to the upper left corner and click Steam.
Select Settings.
Click Account, then select Manage Steam Guard Account Security.
Choose either or both of these verification options:
Get Steam Guard codes from the Steam app on my phone
Get Steam Guard codes by email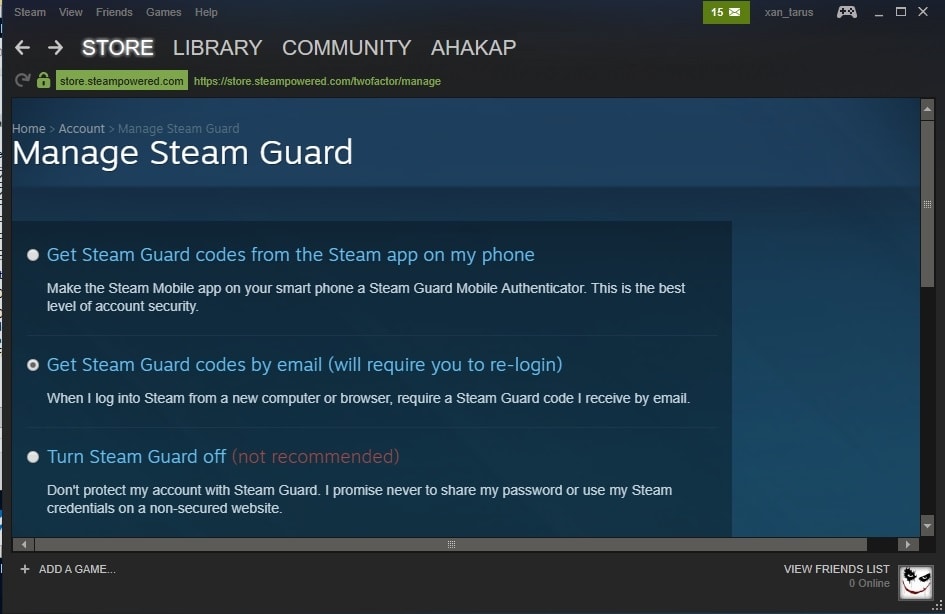 This should enable the Steam Guard security feature. The next step is to enable the Family Library Sharing feature on your Steam account.
Second Step: Sharing your Steam games
Learning how to share Steam games with your friends and family is simple. Just follow the steps below:
On your family's or friend's Windows 10 PC, log into your Steam account.
Go to the upper left corner of the window and click Steam.
Click Settings.
Select Family.
Make sure that the box next to Authorize this computer (or Authorize Library Sharing on this computer) is checked.
Save the changes by clicking OK.
Log out of your Steam account.
Once your friend or family logs into their own account, they should be able to play the games you shared.
It is worth noting that your own game progress won't be interfered when you share your library with other people. Their game achievements will be saved in their own account. Moreover, the shared games can be accessed by a single account at a time. So, if you own the game and you'd want to play it, other people using it will be given a couple of minutes to save their progress and quit the game. Otherwise, they will be prompted to purchase the game.
How to Disable the Steam Family Library Sharing feature
If for some reason, you've decided to stop sharing your games, you can do so by following these steps:
Log into your Steam account.
Go to the upper left corner and click Steam.
Select Settings, then click Family.
Deselect the box next to the user you wish to remove from the sharing feature.
Save the changes by clicking OK.
Benefits
While it's possible to do, the main purpose of the Steam Family Library Sharing feature is not to share your library with a friend who lives across the country. It's aimed at parents who want to share their own personal Steam library with their kids.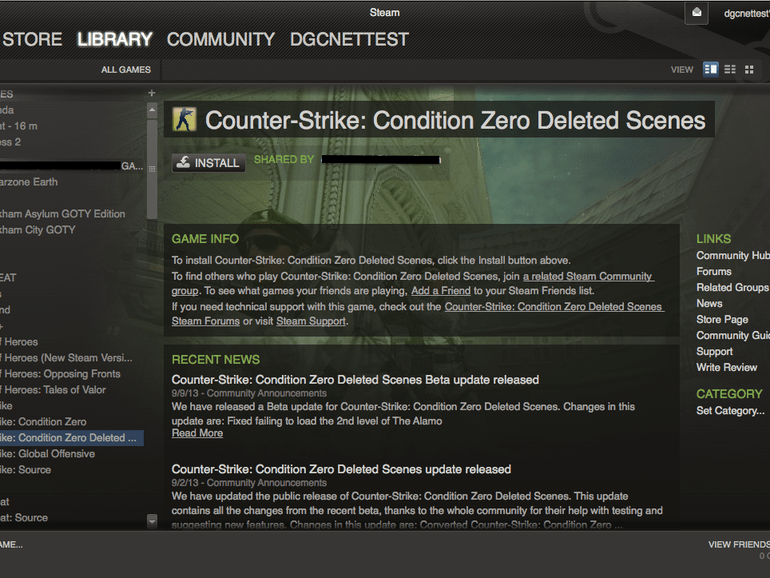 One of the benefits of using Steam Family Library Sharing is having the ability for both you and your kids (or siblings) to play a game without interfering with the other's progress, saves, and achievements. It can also be used to test a game you are interested in (and that a friend owns, of course) to see if it's worth your hard-earned cash.
Frequently Asked Questions
Can I share my games with users that don't live with me?
While Steam Games Sharing can work for users that are not accessing Steam from the same location, due to technical limitations, the feature may encounter issues that Steam is unable to provide support for.
I want to play my own games, but they're being played by another account. What do I do?
As the owner, you may always access and play your games at any time. If you decide to start playing when another user is already playing one of your games, he/she will see a message giving them five minutes to either purchase or quit out of the game.
Can I share specific games?
No, libraries are shared in their entirety. You aren't able to select specific games to share or exclude.
Additionally, for users that are borrowing multiple Steam Libraries, they will be unable to choose who they borrow a game from.
Can all Steam games be shared?
No, due to technical limitations, some Steam games may be unavailable for sharing.
For example, titles that require an additional third-party key, account, or a subscription in order to play cannot be shared between accounts.
DLC may not be shared if the borrower also owns the base game.
Free to play games and any purchased DLC for those games is also not supported for Family Sharing.
In addition, if your account has a VAC ban, you will be unable to share any VAC protected games.
Can two users share a library and both play at the same time?
No, a shared library may only be played by one user at a time including the owner and even if they want to play different games.
Is there a limit to the number of accounts I can share my Library with?
Yes. A Steam account may authorize Steam Family Library Sharing on up to 5 accounts and on up to 10 devices in a 90 day period. This includes accounts/devices that you have cancelled sharing with in that same time period.
DLC and in-game content
A borrower will have access to the lender's games and DLC, but only if the borrower does not also own the base game. If a they already own the game, they'll need to purchase the DLC themselves in order to play it. For free to play games, DLC cannot be shared since all Steam users "own" the game.
Any user may purchase, trade, earn, or otherwise acquire in-game content while playing a game, but in-game items cannot be shared between accounts. These items remain the property of the account that purchased or acquired them.
Trading cards will not be dropped while playing a shared game.
Can region-restricted games be shared across regions?
No, any region restrictions will remain in place when lending or borrowing games.
What if a borrower is caught cheating or committing fraud while playing my shared games?
Your Family Sharing privileges may be revoked and your account may also be VAC banned if a borrower cheats or commits fraud. In addition, not all VAC protected games are shareable. We recommend you only authorize familiar Steam Accounts and familiar computers you know to be secure. And as always, never give your password to anyone.
Troubleshooting Family Sharing
If you are experiencing issues with an entire shared library, it's likely that there is an authorization issue with device or user that was previously authorized.
If you are experiencing an issue with a specific game or DLC in a shared library, it's likely that the game is not available for sharing for one of the reasons outlined in the FAQ above.
Re-authorizing a shared library
This is always a good first step to ensure that Family Sharing is working correctly.
The owner of the shared library needs to access their Device Management page. From there, select "Manage Family Library Sharing" and deauhtorize the device that is giving you issues.
Now, the borrower should attempt to launch one of the games in the shared library which will open request to share.
Requesting access will send the game owner an authorization email.
They need to click on the link in the email to authorize that computer and grant access to the library.
Shared library locked
This is an error indicates that someone else is using the shared library. A Steam library can only be used by one user at a time to play one game at a time. The same is true if that library is being accessed by another user via Family Sharing.
Rate limit exceeded
A Steam account may authorize Family Library Sharing on up to 5 accounts and on up to 10 devices in a 90 day period. This includes accounts/devices that were previously shared to and have since been cancelled. In order to add a new authorization to Family Sharing after having reached the limit, users will have to cancel an existing link and then wait out the 90 day cooldown period.
You will need to wait for the cooldown to expire before authorizing another machine. Steam Support does not remove these cooldowns
The post How to Share Games on Steam appeared first on Techolac - Computer Technology News.
The information on your USB flash drive (such as its model, manufacturer or version of firmware) helps to better understand the device and its features. Which in its turn allows you to repair or fix the operation of a device.
A small utility USB Flash Drive Information Extractor perfectly copes with these tasks. It reads all the data from a flash drive and provides users with detailed summaries on their drives: the model of their controllers or type of microcircuits and RAM.
The most distinctive feature of this program is the fact that it works with a flash drive directly and provides all the necessary information. There is no need to find out the VID/PID of your device and then search for the data on its model on your own. All service information is available immediately after the device is connected via a USB port.
Flash Drive Information Extractor utility is often used for repairing flash drives and here is why:
It works even in such difficult cases when flash memory isn't recognized as a separate drive by a PC.
It ignores errors: there may be bad sectors on your flash drive as well as broken blocks which make it difficult to access it.
The Kind of Information on a USB Flash Drive you can get
Flash Drive Information Extractor retrieves service information which will be useful for further repairs of this flash drive and/or data recovery:
The type of its controller,
Memory circuits (RAM),
The name of RAM, typology,
The voltage of memory stick,
The version of USB port,
The amount of available memory,
The actual amount of free space,
The data on VID and PID,
Controller revision,
The ID of the flash drive (but not for all configurations),
Other service information.
How to use USB Flash Drive Information Extractor program
It's incredibly easy to use this software. In order to gain information on your USB flash drive:
Connect it to a PC via any available USB connector.
Open Flash Drive Information Extractor app (at the path \usbflashinfo\GetFlashInfo.exe).
Choose the "Get information on the USB drive" command.
After your media storage device is read, information on it will be displayed in the program window.
The features of the app operation
The Flash Drive Information Extractor utility works only with flash memory. Which means that an audio player or phone connected via a USB won't be detected by the program. If you connect an incompatible device, the program simply won't detect its model or chip.
If you want the software to correctly recognize a flash drive, you have to wait for about half a minute (or more, if your storage device has read errors or it's damaged) until it's fully recognized by the operating system. Otherwise, Flash Drive Information Extractor won't detect your flash drive and show it in the list of devices as well as the software won't be able to show the information on it.
Before running the utility, disable every unused app and program using low-level access to a flash drive or other devices. Otherwise, FD Information Extractor may conflict with other low-level utilities.
If Flash Drive Information Extractor hangs up while determining the parameters, extract the flash drive from the USB-connector without closing the program. There is a chance that the flash drive service data will be displayed correctly in the program window.
Download Flash Drive Information Extractor
The post Free of Charge Utility USB Flash Drive Information Extractor appeared first on Techolac - Computer Technology News.
In today's world, money has no "inherent" value—that is, it has no useful properties other than absolute liquidity, which enables people to obtain anything of value into ownership. Modern society creates money at its own discretion, without being tied to reserves of gold or any other commodities that need to be obtained. This type of money is called fiat money.
As a result, money's value and purchasing power fully and completely depend on the maturity of the society that created and acknowledged this money.
Monetary systems of the developed and developing countries have different risks. In developed countries, risks of deflation and currency overvaluation often exist, while in developing countries, on the contrary, inflation and devaluation risks exist. Now that we have defined money as a social institution, we can visualize how it works.
Developed economies continuously produce large amounts of goods and services because their production institutions are efficient and stable. At the same time, these societies are so well-organized that each person can be confident that his or her ownership rights, including the right to use money, are reliably protected from any outrage, including that of the authorities.
Having money in such a society means that a person can at any time acquire the product or service he or she needs. This ability warrants that a money owner will not be stripped of his or her economic rights in this society, even if he or she temporarily ceases to receive income for one reason or another.
This motivates people to own money that, in this society, guarantees protection; money is taken out of circulation, which leads to shortcuts in cash flows, i.e. decreased revenues to companies that, in turn, start to save money, which leads to salary cuts etc..—as a result, the economy shrinks, leading to recession and falling prices.
The picture is quite different in the developing countries. As a rule, their economic system is weak and does not ensure stable and guaranteed production of goods and services. Besides, confidence is low and institutions are weak in such societies. People cannot be sure that the economy will be stable and that the government will reliably support money's purchasing power. In this situation, people seek to get rid of their money, rather than accumulate it. They prefer to buy real estate or durable goods. This pushes prices up. Should the government or the bank system bring to market massive amounts of money, people who do not trust the stability of their national currency typically seek to acquire money issued by other reliable countries.
For this reason, this latter money is referred to as reserve currencies and serves as the basis of the world financial system. Now we can say why: countries issuing reserve currencies have strong organized societies and stable institutions. They are a kind of a warranty of the stable world order. In fact, they sell their institutions, their cultures, their ways of life in exchange for raw materials and industrial goods of the developing countries.
True reinforcement of the developing countries' currencies is possible only through their institutional development. The larger and the more stable the flow of goods and services generated by a nation's economic institutions, the higher the social confidence, the more people seek to accumulate their national money and, hence, the more stable the nation's financial system.
However, even a strong economy and a well-built society cannot hold developed countries harmless against crises. These countries have their own challenges, and, keeping in mind their impact on the rest of the world, we will dedicate this book to them.
The post Maturity of the Society: Reserve and Risk Currencies appeared first on Techolac - Computer Technology News.
Before we set upon analyzing the financial system, we first need to define its place in public life as a whole.
The financial system determines who—when and on what terms—has the right to own and manage the wealth created by the economy. In other words, it is a set of rules by which people organize to produce goods and services and then share these products among themselves. These rules governing people's lives are called social institutions.
Ownership and money are the two basic institutions of the economy. The economy is the part of social life that operates the terms "my" and "someone else's" and offers a possibility to buy and sell, trading these categories' places. Money is a tool used to redistribute ownership. That is, it is a carrier of economic power in a society. Economic power associated with money allows one not only to acquire material values, but also to manage people by paying for their services.
The fact that money is a social institution, rather than one of the real economy's assets, is critical for understanding how the financial system works. By its nature, money is a social phenomenon—even when the role of money is played by goods (gold, kettles, furs, etc), they play this role through its recognition by the society as a means of payment, rather than through their consumer attributes. The main thing that makes these goods money is people's agreement to regard them as such.
This agreement is not a legal concept. Undoubtedly, laws governing currency circulation may be adopted, but before that, money must gain a foothold as a social consensus in the society's real life. The government can only codify rules that already exist and have been recognized by the society. This set of rules, as mentioned before, is a social institution.
From early childhood, we take these rules for granted, perceiving them as a very natural part of our lives, without even thinking that things could be different; this process is called socialization. Each individual goes through his or her daily routine without taking much trouble to think about his or her role in the larger social organism. However, if one looks at a society as a whole, there comes an impression that it lives by somebody's design, that individual people are parts of a large mechanism moving like clockwork along the established patterns. This order adopted by their native environment is, for most people, as real as trees on the ground or the sky above.
However, we tend to perceive social institutions adopted by different social systems more critically, especially if they differ from the procedures existing in our own native environment. One of the advantages of economics is that it gives us a chance to look at our own society from outside, breaking many stereotypes.
Thus, let us take a look at one of the above-mentioned institutions, ownership rights. What does the word "own" mean in regard to property, for example, a car? Evidently, it is not the same as someone's own hand or a leg or a kidney; however, we all unequivocally understand the meaning when we hear that a car belongs to somebody. The car belongs to somebody because both the owner and the people around believe that he has an exclusive right to own, dispose of, and use it. If other people decide to enter his car and leave, we will call them thieves. These are the rules. Being aware of the importance of these rules, society will prosecute the thieves in any ways possible in order to protect the legitimate owner's fundamental rights.
To understand better that our rules and institutions are just our conventions, imagine a society where all things belong to everyone. A representative of such a society would be very surprised to see our behaviors. Why cannot a person in a hurry use a transport sitting idle in a parking lot? He needs it more than anyone else, including some "owner"! Why does anyone have to be hungry amid huge buildings with aisles and aisles of food just because he does not have some pieces of paper that would make this food "his"?
The ownership right involves not only the right to own and use but also the right to dispose of one's property. One can voluntarily transfer his or her ownership to other people, receiving in exchange a value that he or she believes to be equivalent. Thus, a car owner may trade his or her ownership for anything—furniture, a land lot, or a service.
This ability of property to be used for acquisition of other property or services is called liquidity. The more wanted a property item, the higher its liquidity, that is, the greater the probability that other people will give something away or offer their labor in exchange for ownership of the item.
The higher liquidity, the more valuable it is due to its ability to grant its owner economic power in the society rather than due to the item's consumer attributes. As soon as item ownership becomes more important than its consumer attributes, because of its high liquidity, we are talking about money.
Money is a universal tool generating ownership in a given society. Money is assertion of the right of ownership. If ownership means that the society has given us the right to own, use, and dispose of something, money gives us the right to choose what we want to own, use, and dispose of. Thus, if you know how to counterfeit currency notes, you can acquire ownership of any goods at your slightest pleasure—of course, until you get caught. In many countries, the penalty for counterfeiting is harsher than that for simple theft because counterfeiting constitutes a more profound threat to ownership. Here, it would be reasonable to clarify our definition of money as a social institution using counterfeiting as an example. Even if someone somehow gets ahold of a real printing machine from a mint and starts making currency notes that are absolutely identical to genuine money, these notes will not become real. The concept of modern paper money includes both the money's physical form and the right of the central bank to issue it. Since this rule would be broken, the notes would not be real, despite their "typographic authenticity."
Therefore, modern money is something that 1) usually has no use other than serving as a means of liquidity, and 2) is recognized and accepted by all society members.
As soon as something acquires these qualities, it becomes money. Conversely, as soon as money loses these qualities, it ceases being money.
The post Money as a Social Institution appeared first on Techolac - Computer Technology News.
Chapter 17 of John Maynard Keynes's General Theory of Employment, Interest and Money:
"Unemployment develops, that is to say, because people want the moon;–men cannot be employed when the object of desire (i.e. money) is something which cannot be produced and the demand for which cannot be readily choked off. There is no remedy but to persuade the public that green cheese is practically the same thing and to have a green cheese factory (i.e. a central bank) under public control."
In order to trigger any event in a real economy, money movement must take place (i.e., a certain amount of money must change hands in the economy in exchange for some goods, services, or labor). Money is indeed the trigger of the economy; if nobody earns money, and nobody spends it, there is no economic process. There are two motives behind spending money—the consumer motive and the investment motive.
The consumer motive means that money is used by economic entities to acquire property for consumption.
The investment motive means that money is used by economic entities to acquire property with a view to generate profit and gainfully return the investment.
Some people's income always means other people's expenses. Wages or purchase of equipment means expenses for an investor but income for the hired labor and equipment seller, and the purchase of goods means expenses for a customer but income for an investor.
From the financial standpoint, there is essentially no income that would not involve someone else's expenses; ultimately, this is a question of distributing money among people, in a system in which the money does not appear or disappear but simply changes hands. For this reason, in the conditions of fixed-money stock, financial profit as a surplus of aggregate money income over aggregate money expenses is impossible.
If this idea appears unusual to you, think of this: how can a profit appear in the form of a surplus of money income received over incurred expenses in the fixed money stock situation? If a trillion dollars circulates in an economy, it will always remain a trillion dollars; some people may have more of it, some may have less, but everybody cannot have more at the same time. While the amount of goods and services may grow arbitrarily, the very concept of fixed money stock shows that the amount of money remains unchanged. Prices have to go down for the fixed money supply to serve the increased supply of values. Let us illustrate this using a simple example. One hundred money units circulate in an economy that produces 100 units of grain at a unit price of 1. Investors invest 100 units of money in production of a new crop paying hired workers, and, due to increased labor efficiency, they receive a new crop of 105 grain units. All that the hired workers can spend to buy the crop out from all the investors is 100 money units. The workers can buy out 100 units either at the old price or 105 at the reduced price, but in any case and money-wise, the investors' aggregate monetary profits cannot grow. Moreover, the investors may not even return these 100 units since some hired workers may decide to save some of the money for a rainy day. However, this must make investors extremely nervous: every time they invest an amount of money, they risk being left with smaller revenue and an unsold stock of products.
The economy, as an aggregate of the production and financial systems, has an internal conflict: the real economy wins when people get more products, while private investors consider their gain as a surplus of monetary revenue over expenses.
This conflict results in a dramatic reduction in the investment motive in favor of the liquidity preference motive; indeed, why invest money and assume higher business risks if one can both save and purchase products, manufactured by other investors, at lower prices? Moreover, in the modern financial system, not only the saver avoids risking his money, but he also has a chance to generate interest income from saving his money.
However, some people's thrift means that money leaves circulation and that someone else cannot receive the income. Any reduction in money spending in the economy leads to reduced manufacturers' incomes and, correspondingly, a portion of labor turns out to be unwanted—this is how involuntary unemployment occurs. People are unable to find a job, while still willing and ready to work. The job loss leads to a reduction in household income and, consequently, a new reduction in manufacturers' incomes because the paying capacity of their buyers (hired workers) goes down.
As a result, a portion of the population has money resources it is unwilling to spend. At the same time, most of the population willing to purchase consumer goods or acquire real estate or become business owners lacks economic power to do so under the current financial system because they have neither money nor a chance to earn it! What we see is a vicious circle: there are excessive commodities and available labor, but the money is accumulated by those who do not need the commodities and who do not care about employing the unemployed. Savers, who's personal or business needs are satisfied, and who hoard money in the amount that is greater than their needs to finance current and foreseeable future expenses, restrict economic growth and employment. Income received by such hoarders in some periods, did not turn into someone else's revenue afterwards, causing recession.
Let's illustrate this with a simple example. A self-employed person (e.g. a free-lance translator or designer) regularly renders some services to Motorola and he or she buys every year a new phone produced by this company. This company and this person create GDP paying each other cash for the services/products. What happens if in one year, the person receives his or her usual cash but buys an IPhone produced by Apple and this company hoards the money? It means that on the next year this cash will not go back into the economy, our free-lancer will not earn his usual revenue and will not be able to spend cash to buy a new gadget. This is the recession.
A catch-22 occurs: the increased labor efficiency in manufacturing and the growing wealth of some people that enables them to save their money lead to reduced business activity and, consequently, increased poverty. A financial crisis is a crisis of economic power; those who have the power are willing to neither use it nor share it. It is a dog-in-the-manger crisis.
Two options to solve the crisis are available:
Stimulate the demand by motivating savers to spend their money (i.e. charging hoardings).
Create new money and inject it into the economy (i.e. building pyramids and creating bubbles).
The modern financial system is inclined towards the second option. This is why the time of its rule may be called the Alchemist Age.
The post Why Money Matters appeared first on Techolac - Computer Technology News.

Popcorn Time is the most versatile application which supplies a lot of streaming contents to watch. You can stream movies on Popcorn Time to get free of charge. If you own an Android Box subsequently its best to put in Popcorn Time on this. This allows you to watch your movies on a larger screen for free. Similar to many other popular streaming services like Netflix, the Popcorn time also has a massive library with a broad group of websites to flow. Popcorn Time is the BitTorrent client, that includes the integrated media player to stream high-resolution videos from various sources. Moreover, the Popcorn Time is available for various platforms such as Windows, Mac, Linux, iOS, FireStick etc.. Likewise, It's easy to set up Popcorn Time on Android TV Box.
Popcorn Time may be utilized as a free alternative to different popular streaming services. Contrary to other platforms, the Popcorn Time for Android Box is stable and works pretty well. With this software, you can perform countless shows and movies right in your Android Box connected to a TV. There are no limitations for the content you watch on Popcorn Time. In the following article, we'll let you know how you can install Popcorn Time for Android Box.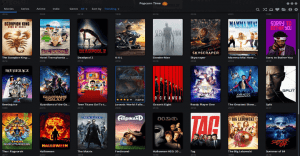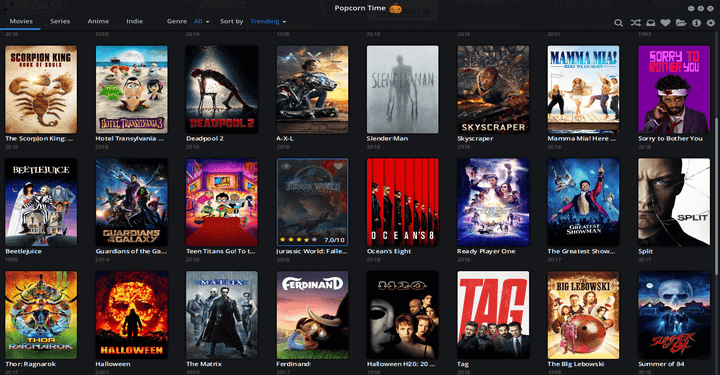 How to download and Install Popcorn Time for Android Box?
There are various methods to download and install Popcorn Time on Android TV Box. But we use Chrome Browser to download Popcorn Time on Android TV Box. It is the most reliable and recommended method, in this, you don't have to worry about choosing the version between X86 or X64. The website itself detects the version for your Android Box.
Note: Before installing any third-party apps, make sure you have enabled the Allow Unknown Sources option. To do this go to Settings > Privacy > Unknown Sources > then enable Allow Unknown Sources.
Step 1: Open Google Play Store on your Android TV Box, then search and download Google Chrome app.
Step 2: Launch the Google Chrome browser and visit the Popcorn Time Official URL https://popcorntime.sh
Step 3: The website will Automatically detect the version of your Android box and provide you with the download link on the home page.
Step 4: Click on the download button and the Chrome browser will show you a warning pop-up message stating "This type of file can harm your device." Click OK to download the installer file.
Step 5: Once after downloading the installer file, simply run the downloaded Popcorn Time Apk file to start the installation process.
Step 6: Go through the on-screen instructions and wait for few seconds until the Popcorn Time app gets installed on your Android TV Box.
Step 7: Once the installation is completed, Click on 'Open' to launch the application
Step 8: Now you will be asked to accept the terms, Click on 'Accept' to agree with the terms and conditions of Popcorn Time.
Step 9: That's it! Now you can stream your favourite movies and shows on Popcorn Time for free on your Android Box.
Popcorn Time would be a better choice for many users, who want to stream tons and tons of contents with a single app. Furthermore, the Popcorn Time offers you everything for free of cost and you don't have any restrictions for using those services. Popcorn Time is available for all major platforms, this enables you to maintain a great entertainment hub among your devices. Hope the above-mentioned installation method is helpful to you. Install Popcorn Time on Android TV Box and enjoy streaming your favorite media online.
The post How to Install Popcorn Time on Android Box appeared first on Techolac - Computer Technology News.